BBBmix Belgian Brownies Premix
Description
This is for all you bitter sweet fans! With 70% dark chocolate, you are sure to indulge in super dark and less sweet moist brownies. Luxuriously delicious ! Best served with Qaramella (salted caramel sauce)
Meet the darker and less sweet cousin of our bestseller , Dark Choc Brownies Premix. Armed with 70% Belgian choc, this brownie is all out to please chocoholics. NO mixer, NO scale and NO experience required. This brownie treat will turn you into an instant hero. Score brownie points when you bake the perfect Belgian brownies with crusty top and fudgy texture underneath. Best served with ice cream or Qaramella, salted caramel sauce.
Contains 2 packs in a box
1 pack of dark chocolate
1 pack of premix flour
Preparation time : +- 5 minutes
*Based on our all time bestseller, the dark choc brownies.
How To
Recommended size: 9" brownies
What you need:
250g of Good Butter.
4 Eggs
1 Teaspoon Vanilla Essence/Extract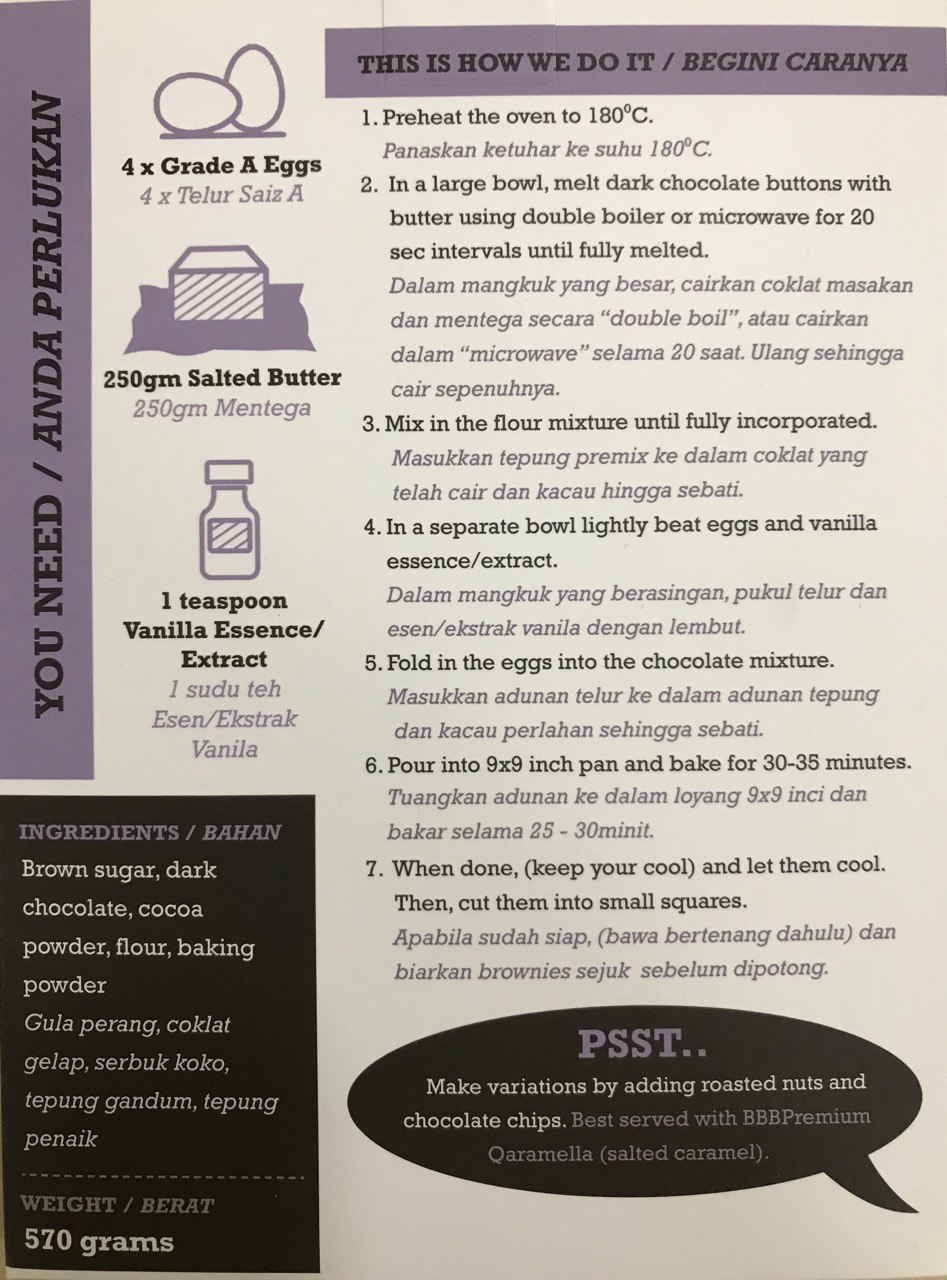 Recommended Tools
Heat Resistant Bowl
Cooking Pot ( for double boil )
Parchment Paper
9 inch Baking Pan
Whisk
Oven
Ingredients
70% Dark Chocolate, 52% Dark Chocolate, Cocoa Powder, Brown Sugar, Flour, Baking Powder.
* We are working on getting Halal certificate by JAKIM. All the ingredients that we are using is Halal certified.
Nutrition Fact
About 10 servings per box

Serving size 100g
AMOUNT per SERVING
Calories/Energy

469Kcal

Protein

7.3g

Total Carbohydrate

46.4g

Total Fat

28.2g

Total Sugar

30.4g
Allergy Information
Contains wheat; may contain milk ingredients.
Q&A
What tools do I need to make the Brownies ?

We recommend to have a 9 inch baking pan or casserole, a whisk, a heatproof mixing bowl, parchment paper and an oven.

How much brownies do I get in a pack ?

You'll get about 1kg brownies.

What kind of brownies would I get?

BBBPREMIUM Brownies are the soft, slightly fudgy type with crusty top. Crusty but not crackly.

What's the difference between Belgian Brownies & Dark Choc Brownies Premix?

Belgian brownies has higher chocolate content as it has 70% dark chocolate inside. It has also 12 % less sugar than Dark Choc Brownies Premix. Perfect for bittersweet chocolate fans and weight watchers.

I don't have an oven. Can I still make brownies using BBBPREMIUM PREMIX?

No worries. You may use a steamer to make the brownies. You'll need to steam it for more than 1 hour until the middle is cooked. Tips! Please cover the lid of the steamer with a cloth to avoid water drippings on your brownies.

Other than steamer, we have also heard success stories from mommies who baked using a rice cooker and also NOXXA Pressure cooker.

What can I add to the brownies to make it more interesting ?

We recommend adding roasted walnuts/ pecans/ hazelnuts/ almonds/ macadamias.

You may want to give it a twist by chocolates, biscuits, spreads. The brownies might take a longer time to bake depending on the additions, but it will turn out nicely with appropriate baking time. The wait will be totally worth it!

When do I add in the additions?

For nuts , mix in batter just before pouring into the pan. For chocolates, cookies and spreads, we recommend adding them on a thin layer of brownies batter. Continue topping with leftover batter and sprinkle additions on top.

Everything looks great but why do the brownies break?

Often it is because the brownies was taken out when it is still warm Let the brownies completely cool down before taking it out and cutting it into small squares.

Why do we need to FOLD GENTLY when mixing the eggs in the brownies batter?

Simply because with each fold, you'll add in more air into the brownies batter. In order to achieve soft and dense texture, it is best to GENTLY FOLD the eggs into the brownies mixture.

What is the best way to store the baked brownies ?

Other than your tummy ?? Lol. Keep the in an airtight container for one month in the fridge or 3 months in freezer. Keyword. AIR TIGHT.

What do I do if I use a different pan size?

Just adjust baking period accordingly. If you use a wider pan, please bake for a shorter period suggested and apply accordingly if you use a smaller pan.

Can I use this premix to make chocolate cake instead?

Sure! We recommend to split the batter into 2 x 8" pans and assemble into cake when they have cooled completely.
Tutorial
Customer comments
| Author/Date | Rating | Comment |
| --- | --- | --- |