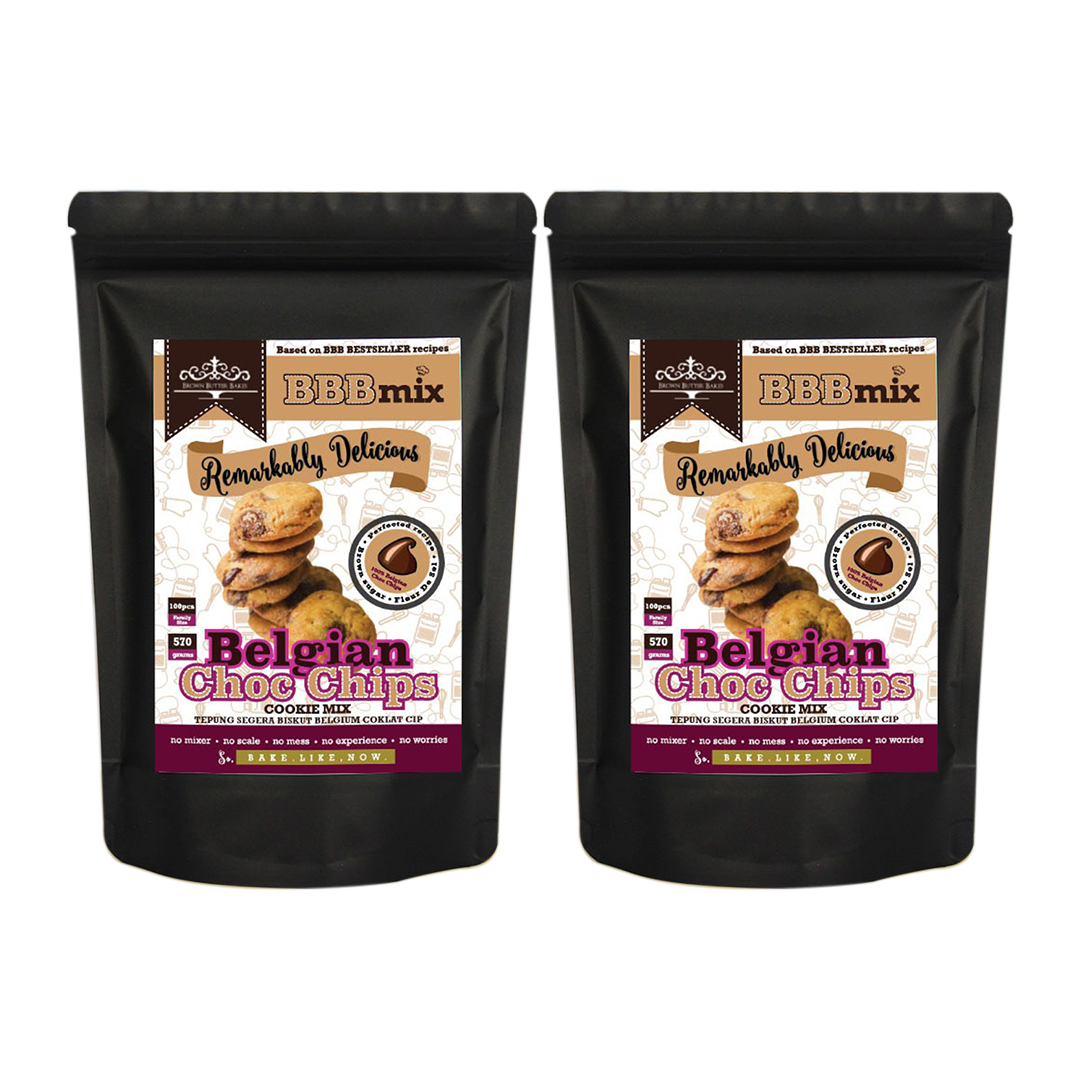 BBBmix Belgian Choc Chip Cookie - Twinpack
Description
Buttery and crunchy chocolate chip cookies with 100% Belgian Choc Chips. Formulated based on our bestseller choc chip cookies , this premix is truly easy and very delicious to make.
Preparation time: +- 5 minutes
*Based on our all time bestseller, the Belgian Choc Chip Cookies.
This promo only valid from 29 June 2020 - 10 July 2020.

Packaging Info
Contains 570g of flour mix and chocolate chips.
Recommended tools
Parchment Paper
Baking tray
Teaspoon
Oven
What you need
115g of softened salted butter
1 A grade Egg
Ingredients
Belgian Choc Chips, Sugar, Flour, Baking Soda & French Salt.
Allergy Information
Contains wheat; may contain milk ingredients.
Q&A
What tools do I need to make the cookies?

We recommend to have a baking tray, parchment paper, a medium mixing bowl and a rounded teaspoon for shaping the cookie drop.

How many cookies do I get in a pack ?
You'll get about 100 pieces of yummy cookies.



What kind of cookies would I get?

BBB Belgian Choc Chip Cookies are buttery with amazing melty belgian choc chips with saltish hint from the French Salt.Dependent on baking time. It can be crunchy, chewy or mix of both texture. The choice is truly yours.



What can I add to the cookies to make it more interesting ?

We recommend adding roasted walnuts/ pecans/ hazelnuts/ almonds/ macadamias.



When do I add in the additions?

After a soft dough is formed.



What is the best way to store the baked brownies ?

Other than your tummy ?? Lol. Keep the in an airtight container in cool and shade ares. Keyword. AIR TIGHT.

Why is chilling the dough recommended before baking the cookies?

Chillin the dough



Helps to control cookie spread in the oven

Concentrates & Incentuates the flavour

Helps to make them crunchier

However, this step is truly optional. You'll bake awesome cookies even without chilling the dough.



I baked half the cookies and would like to keep the dough for later.

No problem! Just wrap the dough in clingwrap and bake them when you need some cookie lovin.
Customer comments
| Author/Date | Rating | Comment |
| --- | --- | --- |