Description
Make THE BEST ( we kid you not!) Red Velvet cake or cupcakes within minutes by using our inhouse Product, BBBMix Red Velvet Premix. NO mixer, NO scale and NO experience required. This Red Velvet treat will turn you into a star baker. Stop doubting yourself, making the perfect red velvet cake isn't a mystery anymore!

Preparation time : +- 5 minutes
*Based on our all time bestseller, the Red Velvet Cake.
How To
Recommended size: 8" cake
What you need:
2 Eggs
1/2 cup boiling water
1 cup vegetable/cooking oil
1 cup buttermilk ( or buttermilk substitute )
1 Tablespoon white vinegar
1 teaspoon vanilla extract / essence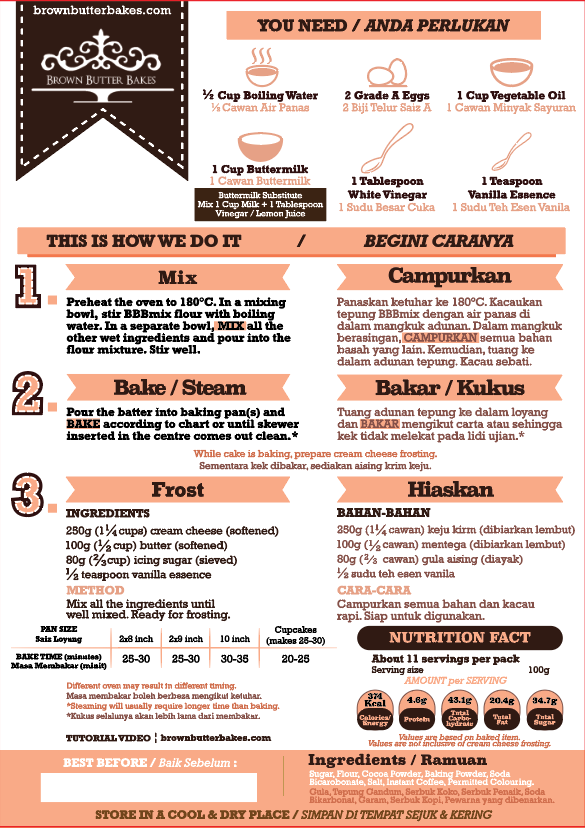 Recommended tools
Mixing bowl
Whisk
Parchment Paper
2 x 8" Baking Pan
Oven
Ingredients
Sugar, Flour, Cocoa Powder, Baking Powder, Soda Bicarbonate, Salt, Instant Coffee, Permitted Coloring.
* We are working on getting Halal certificate by JAKIM. All the ingredients that we are using is Halal certified.
Nutrition Fact
About 11 servings per box

Serving size 100g

AMOUNT per SERVING

Calories/Energy

374Kcal

Protein

4.6g

Total Carbohydrate

43.1g

Total Fat

20.4g

Total Sugar

34.7g
Allergy Information
Contains wheat; may contain milk ingredients.
Q&A
How much Red Velvet do I get in a pack?
A full 1.7kg cake when done complete with cream cheese frosting.
What kind of Red Velvet would I get?
We'd like to think it's the perfect kind. Tasteful, not to sweet, moist and soft red velvet cake with just the perfect red.
What tools do I need to make the Red Velvet?
We recommend to have one 10" square pan or two 8" round round baking pan, a whisk, parchment paper and an oven.
Do I need a mixer for the cake and cream cheese frosting?
No. However if you have a hand mixer, you can use it to make the cream cheese frosting. It is not necessary to use the hand mixer if the cheese and butter has softened. A whisk would do the job just fine.
Is the cream cheese frosting provided?
We wish we can include the frosting in the box but unfortunately we can't. However we have included our signature cream cheese frosting recipe on the box.
When is the best time to prepare the cream cheese frosting?
We recommend preparing once the cake is ready, while waiting for it to cool down. To soften the cheese and butter, take them out at the beginning, when you are about to start making the red velvet.
What is buttermilk & why does the box require me to use it?
Buttermilk is a key ingredient in red velvet. It determines the taste and texture of a good red relvet. Buttermilk is a byproduct of butter. It is thicker than milk but more fluid than yogurt. You can buy buttermilk at high end grocers in Malaysia at the yogurt section. Often, it is sold in milk carton like box.
What if i dont have buttermilk? What do i subsitute it with?
You can still make the red velvet using substitution. To subsitute, mix a cup of full cream milk and vinegar/ lemon juice. Leave it for 5 minutes before using it. The outcome of your cake will still be fantastic, but nothing beats the original we would say.
I need more frosting to decorate the cake. What do I do ?
Please double up the frosting recipe to cater for this.How do I store the cake?
We recommend to store it in air tight container in the fridge for up to 2 weeks.
Can I make cupcakes ?
Yes, they make excellent cupcakes too. You may get around 25-35 cupcakes depending on the cupcake size.
Tutorial
Customer comments
| Author/Date | Rating | Comment |
| --- | --- | --- |