Description
The premium taste of chocolate moist cake BBBmix Chocolate Cake (CMC) made with European cocoa powder. This full set chocolate cake premix comes with chocolate ganache and chocolate rice. NO mixer, NO scale and NO experience required. This choc moist will turn you into an instant hero. Best served with or signature salted caramel sauce, Qaramella.
Contains 3 packs in a pouch
1 pack of premix flour
1 pack of dark choc buttons
1 pack of chocolate rice
Preparation time : +- 5 minutes
How To
Recommended size: 7" cake
What you need:
1/2 cup milk
1/2 tablespoon vinegar
1 grade A egg
1/2 cup oil
1/2 cup boiling water
For Ganache - 1/2 cup full cream milk OR 1/2 cup cream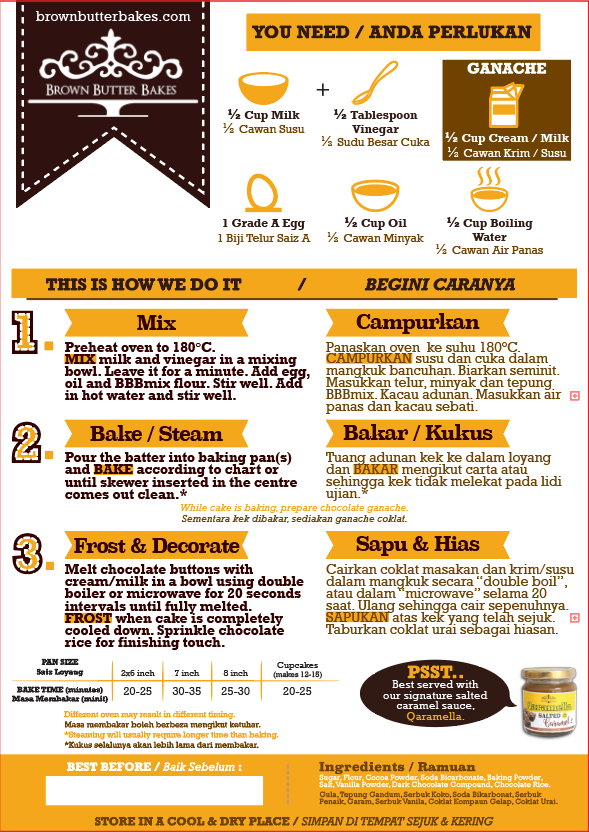 Recommended Tools
Heat Resistant Bowl
Cooking Pot (for double boil)
Parchment Paper
7 inch Baking Pan
Whisk
Oven/ Steam pot
Ingredients
Sugar, Flour, Cocoa Powder, Soda Bicarbonate, Baking Powder, Salt, Vanilla Powder, Dark Chocolate Compound, Chocolate Rice.
* We are working on getting Halal certificate by JAKIM. All the ingredients that we are using is Halal certified.
Allergy Information
Contains wheat; may contain milk ingredients.
Q&A
What tools do I need to make the Choc Moist cake?

We recommend to have a 7 inch baking pan or casserole, a whisk, a heatproof mixing bowl, parchment paper and an oven or steam pot.

How much serving do I get in a pack ?

You'll get about 850g chocolate cake including the ganache and chocolate rice.

I dont have an oven. Can I still make choc moist using BBBmix?

No worries. You may use a steamer to make the cake. You'll need to steam it for more than 1 hour until the middle is cooked. Tips! Please cover the lid of the steamer with a cloth to avoid water drippings on your cake.

Other than steamer, we have also heard success stories from mommies who baked using a rice cooker and also NOXXA Pressure cooker.

What can I add to the cake to make it more interesting?

We recommend adding roasted walnuts/ pecans/ hazelnuts/ almonds/ macadamias.

When do I add in the additions?

For nuts , mix in batter just before pouring into the pan.

Everything looks great but why do the cake break?

Often it is because the cake was taken out when it is still warm Let the cake completely cool down before taking it out and cutting it.

What is the best way to store the baked cake?

Other than your tummy?? Lol. Keep the in an airtight container for one month in the fridge or 3 months in freezer. Keyword. AIR TIGHT.

What do I do if I use a different pan size?

Just adjust baking period accordingly. If you use a wider pan, please bake for a shorter period suggested and apply accordingly if you use a smaller pan.
Customer comments
| Author/Date | Rating | Comment |
| --- | --- | --- |